overview
Key Learning Outcomes
Regional investment and financing outlooks for Coal-fired Power Plants (CFPPs)
Demand projections and production updates
Regulatory structures and incentives affecting CFPPs investment
M&A vs greenfield project development
Financing and refinancing strategies – differences across markets
Development in clean coal technologies and environmentally compliant coal generation measures
Plants' KPI; key efficiency metrics, implementation, CAPEX, OPEX and ROI
Retrofitting for environment compliance measures – trends, case studies and options
EPC contracts and roles of OEMs
PPAs for bankable greenfield projects
Technologies and case studies for CFPP modernisation
Who Should Attend
C-level, GM, Director, Manager of Operations, Plants, Finance, Investment, Technical, Energy Management and Compliance from
Independent Power Producers, Coal/Thermal power plant operators
Energy investors, private equity
Energy regulators
EPC contractors
Plant equipment, service providers
Legal, Financial Advisory services
Electricity distribution
What Delegates Like About Our Energy Programmes
"Trainer generously offered real-life experiences in coal plant operations and challenging questions to engage participants in discussions. The course will help me engage better with plant operations to improve O&M planning, outage probability modelling & analyses and power supply improvement"
– Joseph Amosco, AVP & Head – Energy Management, Meralco – Mpower
"The programme is absolutely related to my work, help improve my understanding of the coal market"
– Amir Rizman Ramali, Executive, TNB Fuel Services
"Informative programme and trainer helped clarify a lot of my questions about coal-fired power plant operations"
– Suffian Suboh, Energy Analyst, SRC International
"I have gained much better picture of what is going on in coal and power industry within ASEAN, particularly in Philippines. Great attendance for a training course which encourages effective networking"
– Nicole Alexandria Nethercott, Energy Trader, GNPower Mariveles Coal Plant
"Improved my knowledge of the coal-fired power plant operations, as well as maintenance scheduling"
– Yong Yoon Cho, Technical Director, Phu My 3 Bot Power Company
"Trainer is very experienced in the subjects presented, I enjoy picking up new knowledge from the course"
– Vindie Eu, Manager, Cement Industries of Malaysia (CIMA)
Course Director
Edward McCartin
Advisor
Transformational Infrastructure Holdings
Edward has over 30 years of finance & legal advisory experience and is a long-time leader in the Southeast Asia power sector, handling over 20 years the financing, construction and operation of power stations around the world. He'd held top line management experience in major multinationals including CEO/COO, senior business development, finance and general counsel roles with Fortune 500/FTSE 50 companies and affiliates including Chevron Geothermal, Alterra Power Corporation, Origin Energy, Tata Power, Greenworld Renewables Philippines, Synova Advanced Power Systems (ASEAN), Asia Renewables, The AES Corporation, PT. Paiton Energy, MidAmerican Energy Holdings and many more. Edward specialises in
Negotiating complex PPA, EPC, O&M, land-use and fuel supply contracts
Complex & bespoke project finance structures with ECAs, Multi-laterals, Commercial banks and capital market investors
Economic, commercial & political risk identification, mitigation and insurance
Tax and corporate structuring; debt restructures; collection of claims in cross-border infrastructure projects
M&A and divestiture of projects
Dispute resolution
Within thermal power generation markets, Edward's been involved in developing, expanding, financing and reviewing of M&A opportunities for over 4000MW of CFPPs, including:
Construction of a 270MW coal plant in Philippines (2014-2018)
Acquisition of 80MW in Java (2014-2015) and 60MW in Kalimantan (2015-2016) and a 600MW acquisition and expansion development in the Philippines (2017-2018)
Developed Paiton units 7&8 (1300MW) and Paiton Unit 3 (815MW) as COO between 2000-2008
Acquisition of Masinloc in Philippines (2008-2009) and divestiture of coal fired plants in China (2008-2010)
Development of gas cleaning technologies utilising Shell's "clean coal" technology" (2013-2016) as SVP – Asian Operations/President-Philippines at Synova Advanced Power Systems
Acted as main advisor to major Indonesian conglomerate to investment in thermal power station and renewables (coal, hydro and biomass) including market analyses, specific project opportunity identification, competitive advantage analyses and consortium structuring (2010-2013)
Structured and financed coal mine methane and landfill gas power generation projects in China and Thailand (2009-2013)
Developed marketing structure for one of the first internationally owned CFPPs in Philippines leading to $100 million turn-around in profitability at AES Corporation (2008-2019)
Successfully restructured of largest IPP and debt package in power deal in Indonesia (Pt. Paiton Energy) of 4.5 million tonnes/year and negotiated PPA for 815MW CFPP expansion IPP including mixed tariff adjustments for USD and JPY payments
Edward was most recently Executive Director of Greenworld Renewables Holdings Corp, and the Senior Vice President-Asian Operations for Synova Power developing waste to energy company based in SE Asia generally, in particular in the Philippines, Thailand and Vietnam. Edward is currently Chief Operating Officer of Transformational Infrastructure Holding where he advises the financing of billion-dollar LNG-to-power projects. He holds a Master of Laws from New York University (1993)
Digital Badge
Upon completion of this training course, participants will earn a digital badge.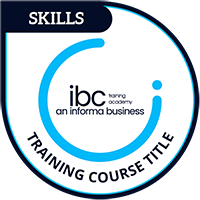 Earners of CFPP Certificates have acquired advanced-level skills in evaluating commercial, regulatory feasibility of, and innovations in coal plant investments. They are proficient in regional investment & financing outlooks, demand projection & production updates, coal price & supply risks, emerging regulatory structures as well as financing/re-financing structures for both M&A and greenfield projects. They are also skilled in managing projects' EPC, PPA contracts, and analysing numerous emission-reduction technologies.
Skills:
investment, financing, re-financing, M&A, greenfield development, emission reduction, environmental, efficiency enhancing, waste heat recovery, advanced control technologies, boiler optimisation, coal supply, coal prices, KPIs, regulatory structure, demand forecasting, demand-side management, EPC contracts, PPAs, retrofitting.
Eligibility:
Attend and participate in the 2 full days of training course duration, led by the designated training expert
Available to:
Seminar attendees
Agenda
Demand projections and production updates in the SE Asia Markets
Effects of slowing economic growth in developed markets
Impacts of renewables on base load "backbone" projects
Transmission enhancement and grid growth
Regulatory Structures and Incentives vs. Roadblocks
Merchant projects and Power Pools-Different Directions in Different Markets
Demand forecasting and demand side management
Clearing transactions and impacts on project financing
Managing Demand Risk and Coal Supply Risks to maintain profitability
Long term OEM maintenance and Outage Strategies
Coal Contracting Strategies in Uncertain Times
Coal supply developments in a COP 2015 world
Regulatory developments impacting coal supply
Clean coal technologies in ASEAN and financing options
CFPP Investment and Financing outlook
Project financing lenders' appetite
Belt and Road Initiative
Continued Roles for Export Credit Agencies and Development Finance Institutions
Changing Evaluation criteria (Equator Principles, Limitations on Coal Project Funding)
Alternative funding sources (Project Bonds, Private Equity)
M&A vs Greenfield Project Development
Different strategies for different markets

Merchant market opportunities for older plants
LNG competition for Peak Load Dispatch

Financing strategies and Refinancing Strategies

Export credit financing for M&A Mezzanine Debt
How to refinance projects under BOOT type PPAs

Changes in Sponsors and Sponsor Obligations
Environmentally compliant coal power generation
Developments in clean coal tech
Clean coal technologies in ASEAN and financing options
Other key plant efficiency metrics and how to implement
Upgrading existing plants
CAPEX and OPEX considerations
Case study: Retrofitting for environment compliance measures – Trends and Options
Global air pollution control systems
Evaluate economic viability and cost-effectiveness of environmental compliance retrofitting: CCS, FGD
Waste Heat Recovery systems
KPIs for Coal Plants
Plant operations, Operating Costs and control strategies

Asset management in coal plants
Maintenance and downtime strategies
Automation and upgrade decisions
Long term OEM maintenance and Outage Strategies
Case study: Coal blending, and optimizing multiple CV coal supplies
Strategic Coal Procurement
Managing Coal Supply and Price Risks to maintain profitability
Coal Contracting Strategies
Coal supply developments in a COP 2015 world
Regulatory developments impacting coal supply
Coal Supply Agreements

Coal Supply and quality management
Price risk management
Power Purchase Agreements (PPAs) for bankable greenfield projects
Government Support Arrangements
Competition in Merchant Markets
Guarantees, risks and insurance across region
Coal supply agreements

Coal supply and quality management
Price risk management
EPC Contracts and the Roles of OEM
EPC Contractor Performance Guaranties and Performance Security
Risk sharing with EPC and Project Financing Issues
Modernising the coal power plant – case study
Trends in digitalisation, interconnected power plants
Estimation of generation efficiency gains, operating cost and emissions
Intelligent forecasting and portfolio optimization
Power plants predictive asset performance and maintenance systems
Cyber security
Advanced control technologies used for boiler optimization
On-site & in-house training
Deliver this course how you want, where you want, when you want – and save up to 40%! 8+ employees seeking training on the same topic?
Talk to us about an on-site/in-house & customised solution.