overview
Benefits of Attending
By the end of this course, the participants would be able to:
Understand what data analytics is, and the different approached to data analytics for different problem-solving situations
Develop analysis framework through problem definition, hypotheses development and identification of data requirement
Understand the principles to building sustainable analytics culture in an organization
Gain exposure to various data analytics and visualization techniques and tools
Gain practical data analysis skills through descriptive and predictive analysis exercises with MS Excel
Who Should Attend
This workshop is designed for managers, professionals and staff at all levels who want to learn and improve their understanding and skills in data analytics, particularly in applying analytics to problem solving.
The course is suitable for participants across all industries and job functions.
Participants are required to have basic MS Excel skills; no prior knowledge of data analytics required.
Participants are required to bring their laptops with MS Excel (ver 2010 or later)
Digital Badge
Upon completion of this training course, participants will earn a digital badge.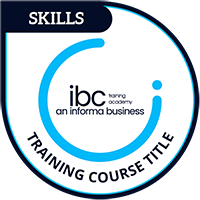 Earners of Data Analytics For Manager Certificate acquired practical skills in developing sustainable analytics culture essential for decision-making and problem-solving functions within business environment. Through reviewing cross-sectoral case studies of digitalisation from global corporations and basic analytical tools, fundamental statistical analysis concepts, data visualisation, story-telling, business case building, they understand how analytics is adopted to great effect in their own organisation.
Skills:
data analytics, decision making, problem solving, analytics software, data visualization, sales, marketing, market research, market intelligence, customer service, performance tracking, problem diagnoses, hypotheses development, data requirements
Eligibility:
Attend and participate in the 2 full days of training course duration, led by the designated training expert
Available to:
Seminar attendees
Agenda
UNDERSTANDING DATA ANALYTICS, BIG DATA & ARTIFICIAL INTELLIGENCE
A general introduction of the concept of analytics, including the general utilities and potential of analytics to inform, explain and guide decision making.
Introduction to Big Data and Artificial Intelligence; types & examples of machine learning
Case studies – See how some notable organizations have successfully deployed analytics to great effect (Walmart, Target, Google, Jetblue)
PRACTICING AND SUSTAINING DATA ANALYTICS AT WORK
Data Analytics Value Chain & Components

What does it take to progress along the maturity curve?
Recipe for Successful Data Analytics
Case study – How Analytics changed the game for Oakland Athletics in professional baseball

Building Analytics Culture
Leadership for Analytics
Data analytics competency framework
Organization design
Data Analytics Maturity Model
Class survey
Group Exercise: Fill in the success recipe book
TRANSLATING DATA INTO INSIGHTS
Understand Your Problems

Complexity theory and Cynefin Framework
Group exercise: Making sense of your problems
Building an Analysis Framework

6-step framework from problem to data, insights and decision
Group exercise: Building an Analysis Framework
Analytics Techniques to Connect-the-Dots
STATISTICAL ANALYSIS CONCEPTS FOR BUSINESS USERS
Common analysis techniques, including trends analysis, regression analysis, survival analysis etc.
Class Exercise: MS Excel Analysis (pivot table, descriptive, correlation, multiple regression)

Data Visualization and Storytelling Principles of Storytelling with data
Data Visualization tools & techniques
Demo of Visualization platforms
Class Exercise: Build Your Own Dashboard (MS Excel)
BRINGING ALL TOGETHER: CAPSTONE BUSINESS CASE EXERCISE
The participants will work on a capstone business case exercise with the concepts and techniques they have acquired in this course
The final presentation, which should include the following: Problem statement, summary of findings (each supported by facts & analysis), and recommendations
Group Presentation & Discussion
On-site & in-house training
Deliver this course how you want, where you want, when you want – and save up to 40%! 8+ employees seeking training on the same topic?
Talk to us about an on-site/in-house & customised solution.