overview
Key Learning Outcomes
Regulatory and Compliance requirements in pharma facilities management (FM)
Critical touch points in Facilities Monitoring and Reporting
Best practices in Clean Room End-to-end management
Standard operations and maintenance of Non-clinical facilities
Practical labs and production asset management
Life cycle management in Pharma facilities & equipment
Quality Risk Management – essentials for Facilities & Engineering managers
Key strategies for outsourcing pharma FM
Pharma & Quality 4.0 and implications on facilities management
Case studies and practical workshops
Drug Plants – difference between biologics vs chemical
Facilities for Continuous Process-based products
OEM Agreements for High-grade lab equipment
Auditing Contract Manufacturers' sites
Who Should Attend
This practical seminar is an indispensable guideline in facility operations for pharmaceutical manufacturing, CRO, CMO, warehousing & distributors, and aimed at
Facilities engineering & management
Process Engineering
Continuous improvement
Maintenance, QA/QC Engineering
Compliance and audit
Reliability Engineering
Site QA & Compliance Specialists
Production, Manufacturing Engineering & Management
R&D management
Facilities Management Service providers
Equipment vendors
What Attendees Like About Our Life Science Programmes
"The course enabled me to improve general understanding on Pharma regulations, as well as participate in active discussion with other trainees."
Chng Kien Peng, Executive Director, Xepa-Soul Pattinson (S) Pte Ltd
"The programme includes good overview information on pharma strategies across the ASEAN region. I enjoyed the global drug trends discussion"
Shahanar Sulaiman, Deputy Operations Director, Pharmaniaga Manufacturing Berhad
"Knowledgeable trainer. Course programme covers various aspects to end-to-end process in contract manufacturing; and how to improve quality agreement"
Lee Jong Nyung, TO Manager, Janssen
"Good quality programme with great presentations, specific applications and technology trends in biomanufacturing"
Deng Wei, Senior Manager, Wuxi Biologics
Trainer
Bulent Erol
Independent Consultant, Pharma Engineering & Project Management
Bulent has more than 30 years of facilities' design, automation, engineering and management experience. Over 25 years in pharmaceutical industry, he has led hundreds of minor to major projects for GSK, Amgen, Bilim Pharmaceuticals and many more. He's specialised in
Facility set-up and capital investments: solids, semi-solids, liquids, steriles, freeze-dried products, biosimilars fill & finish, and more
EHSS Leadership for Pharma & Process equipment, building, clean rooms, mechanical & electrical services, control systems
Validation, qualification, verification, calibration & certification of utilities and equipment
Compliance supervision on GMP, GLP, GDP and others
Developing and operating computerised management systems
Designing, Developing and operating packaging premises
Prequalification, qualification of vendors/suppliers, contractors and procurement of systems, facilities and FM services
Implementation of continuous improvement activities for sustainable facilities & equipment
Planned & unplanned maintenance process
Integrated Management System Certification (ISO 9001, ISO 14001, OHSAS 18001)
Digital Badge
Upon completion of this training course, participants will earn a digital badge.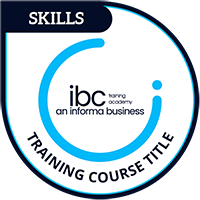 Earners of Pharma Facilities Management Certificate have acquired advanced-level skills in managing overall facilities services within biopharmaceutical research & production environment. They are capable of ensuring compliance requirements & quality assurance for various assets including clean rooms, manufacturing faciliites, energy & utilities, environment, high-grade labs equipemnt. They are also skilled at managing OEM agreements and auditing contract manufacturers' site conditions.
Skills:
faciliites management, pharmaceutical industry, clean room, hvac, energy, utilities, maintenance, corrective maintenance, monitoring, reporting, contract management, contractor oversight, outsourcing, life cycle management, regulaotry risks, quality risk management OEM agreements, high-grade lab equipment
Eligibility:
Attend and participate in the 2 full days of training course duration, led by the designated training expert
Available to:
Seminar attendees
Agenda
REGULATORY AND COMPLIANCE REQUIREMENTS IN PHARMA FACILITIES MANAGEMENT (FM)
GMP, GLP, GDP, CMC Aspects of FM
Common Pitfalls in Writing an SOP/Instruction for Each System or Equipment
Case Study: Handling A Failure or Malfunction of a GMP/GLP/ GDP/CMC Critical System, Equipment or Instrument
Sustainability strategies in pharma facilities management
CRITICAL TOUCHPOINTS IN FACILITIES MONITORING AND REPORTING
Main components in facility validations
Documentations for qualification (design, installation, operation, performance, process)
Inspection and periodic review
Monitoring, reporting examples:

Equipment: HVAC, water, energy & utilities, refrigerators, freezers, incubators, liquid nitrogen units
Environmental conditions: temperature, humidity, differential pressure, atmosphere, air velocity
BEST PRACTICES IN CLEAN ROOM END-TO-END MANAGEMENT
Certification & recertification of cleanrooms' classifications and standards
Manage clean rooms' air pressure, ventilation, humidity, temperature, particle count
Minimise contamination risks
Future of aseptic techniques
Design & construction case studies
FACILITIES FOR CONTINUOUS PROCESS-BASED PRODUCTS
Configurations and scales during development and scale-up across manufacturing stages
Uncertainty of resource requirement
Facility's level of flexibility
Multi-purpose facility
From GLP Laboratory to cGMP manufacturing capability for CMP
Personnel & procedural controls
STANDARD OPERATIONS AND MAINTENANCE OF NON-CLINICAL ASSETS
Total productive maintenance routines
Maintenance performance indicators
Equipment maintenance: HVAC management
Water filtration and purification
Electrical systems
Environmental control Airborne particulates, microorganisms
Airflow, air velocity, humidity, refrigeration, temperature
Waste & Energy
Maintenance scheduling
Exercise: Improving an environmental control programme (ECP)
CASE STUDIES: BIOLOGICS VS CHEMICAL DRUG PLANTS – DIFFERENCES ACROSS FACILITIES AND EQUIPMENT REQUIREMENTS
PRACTICAL LABS AND PRODUCTION ASSET MANAGEMENT
Surplus strategies
investment recovery programmes
Preventive/predictive maintenance and repair
Uptime and proactive maintenance
LIFE–CYCLE MANAGEMENT OF PHARMACEUTICAL FACILITIES AND EQUIPMENT
Life cycle assessment analyses of production facilities
Strategy & policies
Approaches & Processes
Procedures and instructions
Assessment & validation
DEVELOPING QUALITY RISK MANAGEMENT FRAMEWORK
Assessments of risks (safety, purity, strength & identity)
ICH Q9 guideline
Alarm management systems
Disaster planning
Exercise: Assessing Functionality of System or Equipment – Best Practices What does "proper/uninterrupted function" mean?
OEM AGREEMENTS FOR HIGH-GRADE LAB EQUIPMENT
Maintenance coverage: warranty, effective & expiration, service levels

Key clauses & negotiation: Early cancellation/termination costs and opt-out
Auto-renewable
Payment terms

Vendor and system availability
STRATEGIES FOR OUTSOURCING PHARMA FM
Efficiency gains, savings and net present value (NPV) impacts
Service level agreements and KPIs
Continuing partnership vs competitive tender
Cost reduction strategies
Renegotiation in outsourcing contracts
RFP process consideration for sponsors and bidders
Implementation of the signed contract – governance processes
PHARMA 4.0 AND IMPLICATIONS ON FACILITIES MANAGEMENT/MAINTENANCE
Innovation to existing technologies

Building management systems (BMS) and
Manufacturing execution system (MES)
Laboratory information management systems (LIMS)
Warehouse management systems (WMS)

Digitalised building information modelling (BIM)
Computerised maintenance management systems (CMMS)
Others Mobile water treatment systems for pharma facilities

Electronic validation
Automated monitoring
On-site & in-house training
Deliver this course how you want, where you want, when you want – and save up to 40%! 8+ employees seeking training on the same topic?
Talk to us about an on-site/in-house & customised solution.