overview
Economic, Technical and Operational Evaluation, and Installation Project Management
Learning outcomes
Regulations and guidelines for EGCS
Technical and operational criteria for wet and dry scrubbers
Investment Estimates and Evaluation for new versus existing vessels – CAPEX, OPEX and Life Cycle costs
Managing the conversion / installation process
Onboard operations
Handling scrubber downtime and non-compliance
Assessing crew workload and training requirements
Lessons learnt from prior installations
Case Study and Group Exercise

Choosing a scrubber system for specific vessel types
Calculating payback for a scrubber investment
Who Should Attend
This workshop will benefit anyone involved in exhaust gas cleaning systems and operations including:
Ship Owners, Operators, and Managers
Shipyards and Ship Designers
Classification Societies
Scrubber and Exhaust Gas System Technology Providers
Testing and Analysis Companies and Marine
Surveyors
Consulting Organisations
Digital Badge
Upon completion of this training course, participants will earn a digital badge.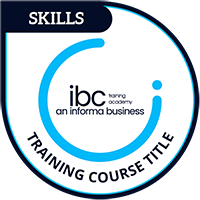 Earners of Marine Scrubbers Certificates have acquired a practical range of understanding in the technicality, legality, technology, project management and operations of EGGs onboard ocean-going vessels. They are proficient with the scrubbers' value chain, latest technologies and basic working principles of various system types. They are skilled in managing vessel's and fleet's scrubber projects, from CAPEX, OPEX, trade routes considerations to contract management, best conversion/installation practices and developing standard on-board operational process.
Skills:
marine scrubbers, exhaust gas cleaning systems, project management, contract management, working principle, installation, conversion, fitting, drydocking, charterparty, capex, opex, onboard operations, maintenance, calibration, scruuber legislations, crew training, wash water management
Eligibility:
Attend and participate in the 2 full days of training course duration, led by the designated training expert
Available to:
Seminar attendees
Agenda
THE WORKINGS OF AN EXHAUST GAS CLEANING SYSTEM
Compatible ship components and equipment (engine, boilers, SCR, etc)
Treatment plant
Examples of different designs and workings
THE SCRUBBER MARKET
Fuel compliance outlook for the global fleet
What will determine ship owner decisions?
Vessels lending themselves to a scrubber retrofit
Current uptake by vessel and technology type
Order book for scrubbers
REGULATIONS AND GUIDELINES
IMO requirements
Regional and local regulations
Emissions monitoring requirements
Documentation and reports
Wash water management
TECHNOLOGY OPTIONS
Wet scrubbers
Open
Closed
Hybrid
Dry scrubbers
CHOOSING A SYSTEM – TECHNICAL AND OPERATIONAL CRITERIA FOR WET AND DRY SCRUBBERS
Installation requirements
Dimensions
Vessel stability
Piping systems
GRE piping
Auxiliary equipment
Electrical systems
Back pressure and noise
CHOOSING A SYSTEM – INVESTMENT ESTIMATES AND EVALUATION FOR NEW VERSUS EXISTING VESSELS
CAPEX
OPEX
Life cycle costs for scrubbers
Financing cost and return on investment
Other compliance options such as LNG
Case Study and Group Exercise: Calculating payback for a scrubber investment
EVALUATION OF MAJOR SCRUBBER SUPPLIERS
What's available
Comparison matrix of technology
What to choose?
CHOOSING A SYSTEM – OTHER ISSUES
Crew training
Maintenance and repair
Case Study and Group Exercise: Choosing a scrubber system for specific vessel types
INSTALLATION AND CONVERSION CONTRACTS
Parties involved
Key aspects to the agreement
Where do things go wrong?
Project management
MANAGING THE CONVERSION PROCESS
Timelines
Technical and operational considerations
Commissioning and regulatory approvals
ONBOARD OPERATIONS
Maintenance
Hazardous chemicals management
Wash water management
Additional workload assessment for crew
Handling scrubber downtime and non-compliance
EMISSIONS MEASUREMENT
The key aspects of monitoring and reporting
Technologies available
CASE STUDY FOCUS
Impact on vessel operations
Measuring compliance effectiveness
Problems and challenges faced
Lessons learnt from prior installations
Scrubber installation checklist for ship owners
On-site & in-house training
Deliver this course how you want, where you want, when you want – and save up to 40%! 8+ employees seeking training on the same topic?
Talk to us about an on-site/in-house & customised solution.