Silver Sponsor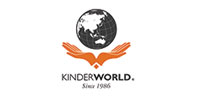 KinderWorld International Group, with its roots in 1986 in Singapore, is the largest owner-operator of foreign-invested international schools business in Vietnam. From our first preschool in Vietnam in 2000, KinderWorld International Group now operates 15 campuses in 8 cities across Vietnam, offering through-train education from Preschool to High School, and University Foundation. The Company is recognized as the Singapore Winner of SME Excellence – Growth Award as well as the overall ASEAN Winner of SME Excellence in the same category at the ASEAN Business Awards 2018.

Outward Bound Vietnam (OBV) provides valuable social and emotional learning opportunities through its outdoor education programs and is at the forefront of experiential adventure-based learning in Vietnam. It was established with the support of KinderWorld Education Group and is a fully licensed member school of Outward Bound International.  Outward Bound Vietnam is also is also uniquely positioned in Vietnam as it is registered by the Department of Education and Training to deliver life-skills courses as an educational provider. OBV participants develop valuable life skills through outdoor learning and experiential education programmes. These programmes are intended to inspire a progressive range of learning outcomes relevant to each age group, for both students and working adults.  These desired outcomes include leadership, resilience, the understanding of teamwork and collaboration, and social and emotional skills.

Pegasus Education Group is the higher education arm of Vietnam's largest provider of international education, the KinderWorld Education Group based in Singapore. Pegasus International College is a leading Hotel & Business Management College, providing a wide range of high quality courses in both English and Vietnamese languages in Hotel Management, Tourism, Culinary Arts, and Business & Commerce. Students are able to pursue qualifications in accordance with national, ASEAN and international standards. Through agreements between Pegasus and Edinburgh Napier University (UK), Pegasus and TAFE Australia, and Pegasus and Elmhurst College (USA), graduates of our Advanced Diploma programmes can seek advanced standing for relevant Bachelor's Degree programme at these universities.

Session Spotlight Sponsors

Associate Sponsor
We've been celebrating the wonder of learning for over 60 years. Furnware works hand in hand with schools around the world, designing and creating furniture so children can thrive in the most inspiring learning spaces imaginable.  We do this with quality, reliability, innovation and genuine care.
Exhibitors
BridgeU is the leading university and careers guidance platform for international schools. It is used by international schools in over 80 countries to help students find the right university across global destinations, streamline the admin work of university advisors, and provide data-driven insights into the success of university applications.

Engage, by Double First, is a management information system designed exclusively for independent schools. Engage removes the need for a school to use multiple systems to manage data, with integrated academic, financial and teaching functionality. Engage follows pupils from initial enquiry, all the way through to alumni, allowing seamless tracking of pupil data and progression.
FACTS International's mission is to increase K-12 Schools' relevance and modernization through industry-leading solutions. These services include cloud-based technologies for SIS (Student Information System); Admissions; Learning Management and Communication. Our "Global Marketplace" of solutions are favored by 5,000 schools globally, and enables both schools and families to be connected and thrive in a sustainable and vibrant eco-system.
Faria was founded in 2006 to transition schools off paper. Today, Faria serves over 8,000 schools in over 120 countries with a suite of 3 services. ManageBac, Faria's flagship product, for curriculum planning, assessment and reporting, OpenApply for paperless admissions, and Atlas for curriculum management.
Follett helps schools do more with less, meet rigorous standards and prepare students for success. Our integrated solutions help you manage resources and reach instructional goals, all while keeping an eye on your budget. We believe that better content, tools and support lead to better learning – wherever learning takes place.
Launching in 2005, iSAMS became the first web-based, fully integrated Management Information System (MIS), designed to increase your school's efficiency, support teachers in focusing on what matters, and transform parent and student engagement. iSAMS enables staff members, students and parents to access all key school information through a single intuitive interface, at any time and from anywhere. Come and see us to find out why over 750 schools, in more than 65 countries, use iSAMS as their trusted MIS partner.
An exciting new choice for International Schools – resources written by experts, based on the newest global methodologies, proven to raise attainment.  Outstanding teacher support, includes specific guidance to teach maths, science and English to pupils whose first language is not English ensures our courses are easy to implement and even the newest of teachers can deliver effective lessons every time.